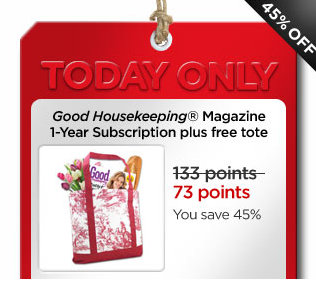 My Coke Rewards Wednesday deal of the day is Good Housekeeping® Magazine 1-Year Subscription with Tote Bag for 73 points (down from 133). 
The NEW Good Housekeeping® will help you look good, feel good and eat well. You'll get real world advice from real women, plus smart shortcuts and clever ideas for getting the most out of your home. Get the magazine for women who want to live the Good Life!
For a limited time, get an exclusive tote bag with your subscription – your free gift! Durably constructed with bottom and easy-carry straps, it is both roomy and water-resistant. This handy tote is perfect for all your on-the-go essentials.