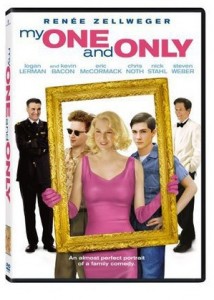 Right now you can get the DVD My One and Only with Renee Zellweger for just $1 and it ships free.  I must admit that when I saw this deal I thought: "wow, the movie was that bad huh?"  But it actually gets good reviews on Amazon.  $1 is less than what it would cost me to rent it on Redbox, so might as well spend the $1 to own it.
Editorial Reviews
Oscar-Winner Renée Zellweger shines as a Southern belle turned New York socialite who leaves her philandering husband and heads out on the road with her two teenage sons to find a new man. Based on the true-life childhood experiences of actor George Hamilton, this hilarious, heart-warming film features an all-star cast including Kevin Bacon (Mystic River), Chris Noth (TV's Sex And The City), Eric McCormack (TV's Will & Grace), and Steve Weber (TV's Wings).
When Anne Deveraux (Zellweger) finds her bandleader husband Dan (Bacon) in bed with another woman, she packs her bags, empties the cash drawer, buys a baby blue Cadillac convertible and begins a cross-country trek with her sons. From Boston to Pittsburgh, St. Louis, Albuquerque and finally Hollywood, her search for a new life continues to turn up short. But the richness of coming to really know her sons – Robbie, who dreams of a life on stage, and George, a cynical, would-be writer who hopes this journey will lead back home (and soon!) – makes their harrowing adventure on America's highways among the most worthwhile undertakings of their lives.