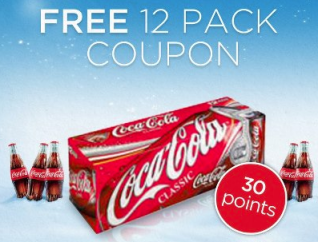 Update: Looks like they removed the offer! 
It's back! As a part of the 12 days of deals you can redeem 30 MyCokeRewards points for a FREE 12 pack of Coca-Cola product. You'll get the coupons via mail and there is a limit of ? per account! This deal is good while supplies last. Follow these easy steps:
(1) Log in to your account, click on the Rewards Catalog link in the top menu
(2) Then click on the "What's New" link
(3) Then click on page 2 to find the Coke offer
Or just type in the search catalog box the word Sparkling and you should see the offer.
The site is getting slammed!
Thanks H2S