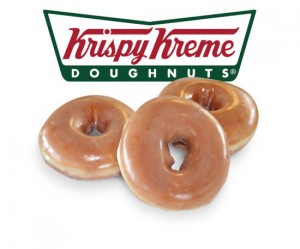 June 1, 2012 is National Doughnut Day! 🙂 Celebrate one of the sweetest days of the year by commemorating National Doughnut Day with a one-of-a-kind complimentary treat from Krispy Kreme. On Friday, June 1 stop in to any participating Krispy Kreme US shops for a FREE doughnut of any variety. No purchase necessary. 
On Friday, June 1, Krispy Kreme is helping its fans across the country pay homage on this delectable holiday by offering every guest one FREE doughnut of any variety at participating Krispy Kreme US locations.
Not to be outdone you can also grab a free doughnut with a beverage purchase at Dunkin Donuts locations.