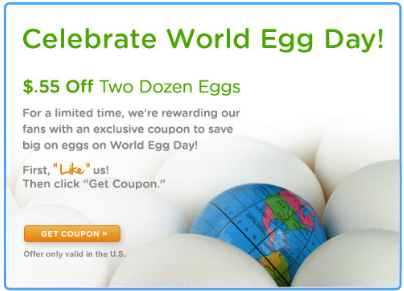 Celebrate World Egg Day with a new $0.55/2 Off Two Dozen Eggs.  Simply "like" their page and click on Get Coupon!  This has limited prints so don't wait too long.
Make your eggs last longer.   Don't store eggs in the door of the refrigerator! Keeping them cooler by storing them inside on a shelf will make them last longer. Remember, the door gets opened and closed all day… the temperature stays cooler most consistently inside on a shelf.
Speaking of Eggs, I hope you caught the interesting topic of Should Your Eggs Be Refrigerated?  You might be surprised!