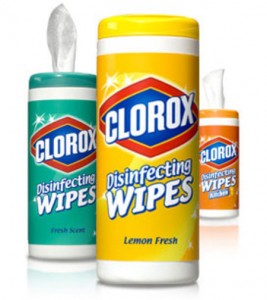 Clorox is offering a $1/1 Clorox Disinfecting product coupon on its Facebook page. This coupon has no size restriction. you can use it to get the travel size wipes at Target and Walmart for FREE. Both stores sell the travel size packs for $0.92-0.97.
If you'd rather get a bigger container, you can stack this $1/1 coupon with the $0.75/1 Clorox Wipes Target coupon printable available.  That would make the 35ct wipes containers $0.54 each.  Thanks, Totally Target!
This coupon should also make the Clorox bleach liquid very cheap too.