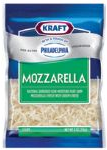 I am sorry guys! Looks like this one was DOA.  I'll keep looking for another one.
There is a new $1/1 Kraft Shredded Cheese with a Touch of Philadelphia Coupon available right now. This is a pretty good value coupon. These bags go often on sale for $2 each and as low as $1.66. If you have a Target Store that carries this type, there is also a $1.50/2 Kraft cheese store coupon available to stack with this one.
Thanks Printable Coupons and Deals!