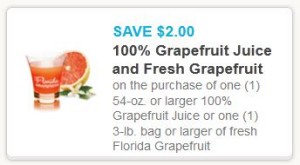 Here is a rare coupon available!  You can grab this new $2.00 off 100% Grapefruit Juice or Fresh Grapefruit Coupon available to print.   You can use the it on  54oz or larger 100% Grapefruit Juice or one 3 lb bag or larger of fresh Florida Grapefruit.
You will need to change your zip code in order to print this new coupon so click on this Grapefruit coupon link, change your zip to 18601, if you don't see it right away close out the page and come back and click the coupon link again.
These zip code specific coupons are a little trickier. 
Thanks Couponing To Disney