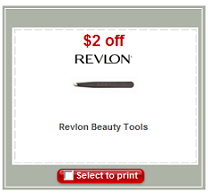 Wow! This high value $2/1 Revlon beauty Tool coupon is somewhat of a rare find.  We usually only see $1/1 value. This coupon is a manufacturer coupon available on the Target website that prints without a Target logo and can be used at other stores.
This is a great coupon as you can use it to get things like nail clippers or nail files for free at stores like Target or Walmart.  This we also, at Walgreens there is the following register rewards offer available:  get a $3 register rewards back when you buy $10 in Revlon Beauty tools (already on sale 40% off).  depending on how many coupons you can print you could be looking at a pretty sweet deal, as like I said the tools are on sale 40% off.
Thanks, Totally Target!