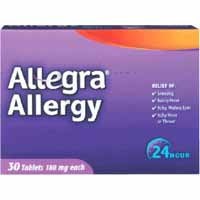 There is a new $4/1 Allegra allergy coupon available.  this coupon is good on the 30-40ct box.  This product seems is being re-rolled in stores.  Starting on 3/3, you can do the following deal at Walgreens:
Allegra 24 Hour Allergy Relief 30ct $17.99
Use $4/1 Allegra product
PLUS use $3/1 Allegra Walgreens coupon from March Coupon Booklet
Pay $10.99 after coupons
Just in time for allergy season!