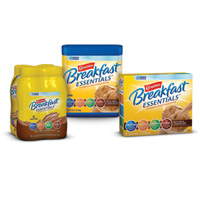 You can get some awesome savings on Carnation Instant Breakfast products right now.  First check out this new $2.00 off CARNATION Breakfast Essentials™ product coupon available to print.  Then check your Ibotta App because mine right now is showing three different offers for this products.  You can get $0.75 for each, just make sure you purchase the exact product and size required.
Some Target locations have Carnation Breakfast Essentials are on price cut for 10% off.  Pricing will vary by product and location.  The 10-Pack of Breakfast Essentials packets are normally $4.24 so 10% off would be $3.81.  Here's your Target Scenario:
Carnation Breakfast Essentials 10 pack – $3.81 (10% off price cut thru 3/16)
Use $2.00 off CARNATION Breakfast Essentials™ product
Pay $1.81 after coupon
Even more if you have Ibotta App.  Check the other Target deals here.
If you prefer, Walmart carries the same product for $4.94 so just $2.94 after new coupon and even better with Ibotta App!  Check out the Walmart deals here.