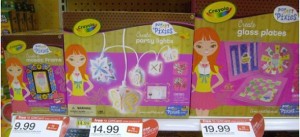 You can save up to $17 on Crayola products with the following coupons available on the Crayola Facebook page:
$1/1 Crayola Glow Board
$1/1 Crayola Crayon Marker
$2/1 Crayola Beginnings Color Me a Song
$2/1 Crayola Color Wonder Sound Studio
$2/1 Crayola Glow Dome
$1/1 Crayola Glow Explosion Spin Magic
$1/1 Crayola Model Magic Presto Dots to the Max
$1/1 Crayola Color Wonder Magic Light Brush
$2/1 Crayola Glow Station Day and Night
$4/1 Crayola Pop-Art Pixies Product
Don't forget about this Crayola Rebate as well.
Target is running the following unadvertised gift card deal on Crayola items:
Buy 2 Pop Art Pixies Kits $9.99 each
Use two $4/1 Crayola Pop art Pixies Product Facebook Coupon
Pay $11.98 and get back one $5 Target gift card.
That's like paying $6.98 for both items.
Please look for tags at your local Target for this deal. Unfortunately, it seems you can no longer check at the price scanner if an item qualifies for a gift card promotion.
Thanks Totally Target and Printable Coupons and Deals!