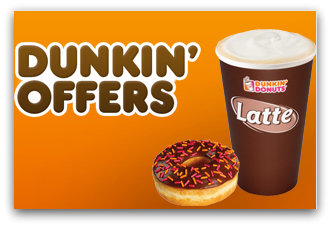 Today Dunkin' Donuts has distributed six national coupons! This as a way for guests to welcome new seasonal menu items and classic favorites at Dunkin' Donuts, catering to both groups and individuals.
The following coupons are valid at participating U.S. Dunkin' Donuts restaurants and expire 9/30/12:
1.       $1.00 off a Dozen Donuts
2.       $1.00 off Bagel and Cream Cheese
3.       Buy a Box of Joe®,  receive 6 free Donuts
4.       $0.99* small Hot or Iced Latte
5.       $1.00 off any 4 count of muffins
6.       $0.99* small Iced Tea
To redeem, print out the coupons from DunkinDonuts.com, or have the coupon barcode scanned from a mobile phone. Please visit DunkinDonuts.com and check out "Dunkin' Offers" for links to download.