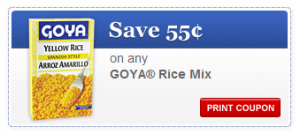 I am loving these new Goya coupons available on the manufacturer's website.  I like to use the Rice mixes and their canned beans.  Here are the coupons you can print now:
$0.75/3 Blue Label Premium Beans 15.5oz or larger
$0.55/1 Rice Mix
$0.45/1 Adobo
$0.55/1 Green Olives 6oz or larger
$1/1 Olive Oil 17oz or larger
$0.60/2 Low Sodium Beans
According to Steph a recipe prints after every coupon. Thanks Jessica's Coupons!