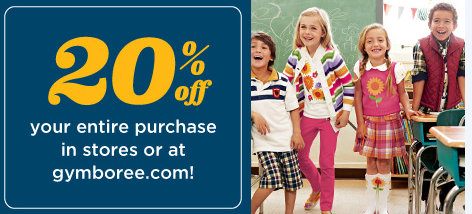 If you're a fan of Gymboree (me,me!) You'll love this new coupon offer! Normally you can find codes in various magazines. some text offers or when you make a purchase but I can't remember a time in recent memory where they offered a printable coupon! Once you register your coupon will be emailed to you where you can redeem in-store or online with a unique code provided.
20% off entire purchase
Can combine with BTS Sale and Promos
Coupon valid both in store or online
Expires September 9, 2012
**Coupon Via Text Message**
TEXT SCHOOL to 38109 for a 20% off coupon at Gymboree
Go
here to get your coupon
 now!  Gymboree clothing are of superior quality and have a high return if you ever try to resell these clothes!