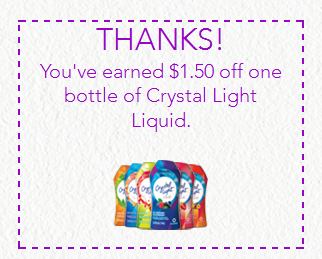 There is a new Higher Value Crystal Light Printable Coupon available.  Go HERE and answer YES to all the questions asked for your $1.50/1 Crystal Light Product coupon, otherwise you'll get a $1 value.  If you're a Target shopper I already mention a nice coupon stack deal you can get.  Here's a deal scenario with your new coupon:
FREE $5 Gift Card wyb 3 Select Crystal Light Liquid Drink Mixes thru 8/24.
Buy 3 Crystal Light Liquid Drink Mix 1.62 oz – $3.49 each
Use (2)  $1.50/1 Crystal Light Product
Use (1) $1/1 Crystal Light Liquid Water Enhancer
Pay as low as $6.47, get back $5 gift card
That works out to be $1.47 total or just $0.49 each after coupon and gift card.
If you have an extra computer and can print three $1.50/1 coupons you'll pay as low as $0.97 for all or just $0.32 each.
Take a look at other Target deals here.
Thanks Molly!