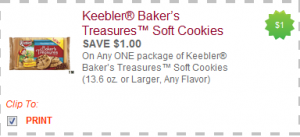 There is a coupon available to this new type of Keebler cookies:  $1/1 Bakers Treasure soft cookies. .  My husband and I had a chance to try the Bakers Treasure Chocolate Chip cookies and Raisin cookies (made with apple sauce):  Great idea on substituting some apple sauce in there to make a healthier cookie.  This did make the cookies a little bit softer.  My favorites were the raisin ones.  My husband liked the chocolate chip ones.
This is not the only new Kelloggs product available recently.  We also had a chance to try the following, so let me tell you what we thought about them:
Townhouse Flatbreads Crisps:  My kids and I loved these crackers.  They are crisp and crunchy and the seasoned flavor is a nice addition and not overpowering.
Coconut Dreams Keebler Cookies:  I loved these!  I love coconut cookies so these were a hit with me.
Nutrigrain Super Fruit Fusion: Nutrigrain bars have always been one of my kids favorite on the go snacks.  As a mom I liked these ones better because they are a bit "sturdier" than the old ones.  The kids enjoyed them.
Don't forget that there is a $0.75/1 Nutrigrain bars coupon that came out on 7/11 RP inserts.  My area got lucky and we got a coupon for $1 off one box.  Make sure to wait for a sale to use your coupon and  try the new Super Fruit Fusion bars for less.
Disclosure- I am a Snackpicks mom and was sent these products for review by Kellogg's.