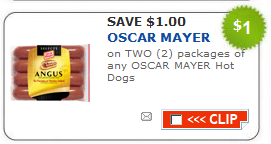 There are new Kraft coupons available.  Some of these should make for some good deals as Kraft runs sales at grocery stores often.  Here are the new coupons
$1/2 Oscar Mayer hot dogs (use zip 90210)
$1/1 Kraft Deli Deluxe cheese (IE) (FF Link)  Thanks Printable Coupons and Deals!
Also available $1/2 Bar-S hot dogs 16oz and larger.
Memorial day sales are just around the corner and I know last year I saw Oscar Mayer hot dogs for as cheap as 2/$3.  Let's hope for a sale like that or better this time around.