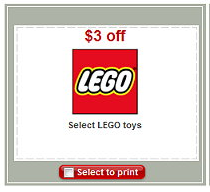 Target has just issued some new Lego Toy Coupons.  These are Target store coupons:
$3/1 LEGO Bank & Money Transfer Building Set
$3/1 LEGO Mack's Team Truck Building Set
$3/1 LEGO Pirates of the Caribbean Fountain of Youth
$3/1 select LEGO Target good on: Hero Factory Fire Lord, Meteor Strike Game, Ultimate Brick Tub or Duplo Brick Tub
If you have any Lego fans in the house at least now you can get them for less with these coupons.
Thanks, Totally Target!