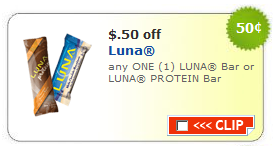 Mambo Sprouts has updated the coupons for Organic foods and items available o its website.  Some of the coupons you can expect to find are:
$1/1 jar of Blue Diamond Almond Butter
$0.50/1 Luna Bars
$0.50/1 flavor of Clif C Fruit and Nut Bars (and a couple for other Clif Bar products)
$1/2 Organic Valley Cheeses
$0.75/1 Santa Cruz Organic peanut butter
$1/1 Udi's Gluten Free foods product
$1/1 box of Numi Tea
$1/1 Organic Valley Yogurt
$0.75/1 R.W. Knudsen Spritzers
$1/1 R.W. Knudsen Just Juice
$1/1 Seeds of Change organic product
$1/1 lb bag of Lundberg Gourmet, Whole Grain rice blends
$1/1 Country Choice Organic product
.55/1 Florida Crystals product
If you have a store that doubles coupons you can use the $0.50/1 Luna Bars coupon to get these free. I got a couple of them two days ago at my local Stop & Shop.
Thanks Saving Naturally and Money Saving Mom!