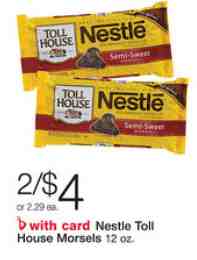 We should see some really great offers on baking items with the cooler weather and Holidays coming up!  Here's a rare $0.50 off any TWO packages of NESTLÉ® TOLL HOUSE® Morsels coupon available. Use zip code 77477 if needed.  Walgreens has Morsels on sale for 2/$4 this week and you can get the following deal:
Nestle Toll House Morsels (12 oz) – 2/$4
Use $0.50/2 Nestle Toll House Morsels (zip 77477)*
Pay $1.75 each after coupon
*To change the zipcode click on the "Local Coupons" tab ad you will see the zip code field on the top left hand side, right below the Coupons.com logo.  After you have changed the zip code click back to the "Coupons" tab to find this one.
Check out all the best Walgreens deals here.  This is just one deal idea and I'm sure we'll see even better deals.