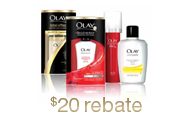 There is a new Olay rebate where you can buy $50 worth of Olay Facial Moisturizers, Facial Treatments and/or Facial Cleansers between 7/23 – 9/3, and get back $20!
In yesterday's Parade Magazine, there was a $1 off coupon.  And, here's a $3 off any Olay Facial Moisturizer available by mail.  Most likely, there will be some great drugstore deals coming up for Olay purchases as well.  Let us know if you see a good way to use this rebate.
Thanks, Frugal and Having Fun!