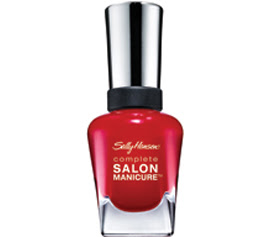 There is a new $2.00 off Any Sally Hansen Manicure Nail Color coupon available to print that you can use to get a great deal at Rite Aid thru 8/25.  Plus you will qualify for a FREE Glam scarf with a $15 purchase of select Sally Hansen products. Here's how:
Sally Hansen Compete Salon Manicure nail color – $7.59 each, get $3.00 +Up Rewards wyb 3
Use (3)  $2.00 off Any Sally Hansen Manicure Nail Color
Pay $16.77, get back $3 +Up wyb 3 nail color
That works out to be $4.59 each plus you qualify for a free Glam scarf.  Check the FREE Glam Scarf details here.
If you're looking for a bit less expensive alternative you'll want to be on the look out for clearance Sally Hansen Crackle Nail Polish.  Some stores have it on sale for 75% off AND it is counting towards the weekly, Buy 3, Get $3 +Up reward. This may be regional so proceed at your own risk.  Here are the details:
Buy (3) Sally Hansen Crackle $1.24 (clearance price, may be regional)
Use (3) $0.50/1 Sally Hansen Nail Color Product from RP 8/5 (exp 9/5)
Pay $2.22, get back $3 +Up Reward
That make it FREE + Moneymaker!  Let me know if you score any at your store!
Check out all the best Rite Aid deals here.
Thanks Rite Aid 101