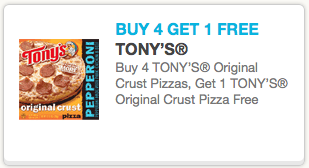 There is a new B4G1 Tony's Pizza coupon available to print right now. To get this coupon, first go here and enter zip 33015 and click on the blue arrow to use that zip code.  Then click this link to go directly to your coupon.  If you shop at a store that have catalina machines you'll get the following:
Catalina Offer
3/31 – 4/20 | Freschetta, Red Baron, or Tony's Original Crust Pizza (13 oz+)
Buy (3) = $2.00 OYNO
If you're a Kroger or Affiliate Store Shopper, you can get the following deal: 
Buy (5) Tony's Original Crust Pizza (14.55 oz) – $1.99 (Reg Price)
Use B4G1 Tony's Pizza coupon
Pay $7.96, get back $2.00 catalina coupon
You pay just $1.19 per item after coupons!
This week ShopRite has Tony's Original Crust 14.9 – 15.6 oz on sale for $2.00 each so only $1.60 each after coupon when you buy 5.
Thanks Living Rich With Coupons and Kroger Krazy