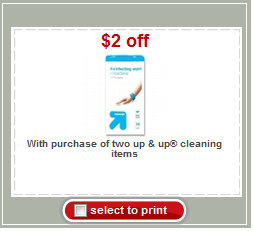 I have been so excited about all the great Target deals available this week! Make sure you print the new $2/2 Up & Up cleaning items Target Store Coupon and grab several items for cheap!  Pricing may vary by location but here's what I found: 

There are several items you can grab with the new coupon and pay as low as 19¢ each including the following items:
Up and Up Wipes – $1.79
Up and Up Ammonia – $1.19
Up and Up Bleach 96 oz – $1.64
Up and Up Bathroom Cleaner – $1.97
Up and Up All Purpose Cleaners – $1.99
Up and Up All-Purpose Cleaner with Bleach – $1.89
Up and Up Floor Cleaner – $1.97
Up and Up Window Cleaner – $2.34
Up and Up Dish Gel – $2.74
Check the other Target deals here.