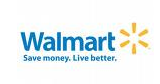 There have been a few new coupons that have popped up this week so if you're a Walmart shopper you can grab the following deals.  Here are the details: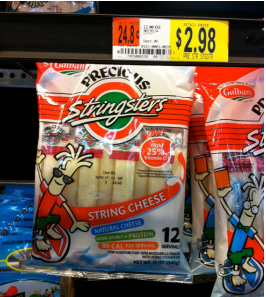 There are a couple of new String Cheese coupons available right now.  You can get:
These are perfect for packing in lunches or on the go snacks for kids and adults! Yum!  Here's the deal:
Precious Stringsters String Cheese 12 ct – $2.98
Use $1.00 off any ONE Precious Stringsters Cheese
Pay $1.98 or just 17 cents per cheese!!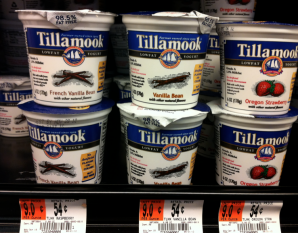 If you're a yogurt fan you can get this new Buy 1 Tillamook 6 oz yogurt, Get 1 Free printable coupon and pay just 27 cents with this deal:
Tillamook 6 oz Yogurt – $0.54 each
Use Buy 1 Tillamook 6 oz yogurt, Get 1 Free
Pay $0.27 each after coupon wyb 2!
For a healthy treat even the kids will love check out these Tillamook Yogurt Parfait Pops!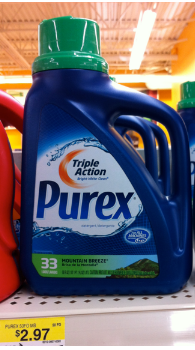 You were able to print a couple of new Purex Coupons.  Here's what's available:
Depending on what product you purchase you could pay a little over $2 for the 33 load bottle.  Here's how:
Purex Liquid Laundry Detergent 33 load – $2.97
Use $1.50 off Any Two (2) Purex Laundry Detergents
Use $0.50 off Any One (1) Purex Laundry Detergent
Pay as low as $2.22 after either coupon wyb 1 or 2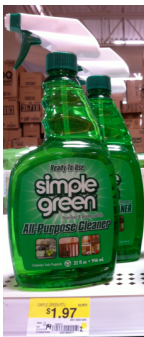 If you head over the the Hopster website, they have coupons available for what they call "boosting".  This feature allows you to increase the value of your coupons by simple tasks like signing up for a companies newletter, liking their page on Facebook or even following them on Twitter.  If you prefer not to you can print a lower value coupon but for this scenario we will use the "boosted" value to get the best price.
Print this $1/1 Simple Green Product coupon to get a bottle for only $0.97 or boost your coupon by liking their Facebook pages and make your coupon worth $1.50!
Simple Green Cleaner, 32 oz – $1.97
Use $1/1 Simple Green Product
Use $1.50/1 Simple Green Product (boosted coupon)
Pay as low as $0.47 after coupon!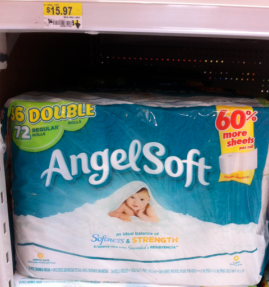 Hopefully you've grabbed this nice $2.00 off Angel Soft bath tissue 36 double roll printable coupon. Grab 36 double for 72 Regular rolls for just 19 cents per roll!    Here's how:
Angel Soft 36 Double Roll Pack – $15.97
Use $2.00 off Angel Soft bath tissue 36 double roll
Pay $13.97 after coupon!
That works out to be 38 cents per double roll breaking down to 19 cents per single roll!  That is a under my stock up price point of 25 cents per regular roll.
Be sure to pick up a newspaper this upcoming weekend where you'll score great deals on Tide Laundry Detergent, Robitussin Cough Medicine, Tresemme Hair Care and More.  Stay tuned for those deals!!
Remember, pricing and availability vary by region.  Take a look at other Walmart deals here.
Thanks and Photo Credit, The Wally World Woman!