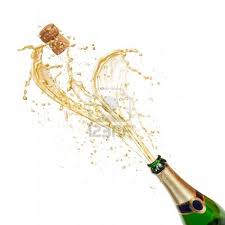 It will soon be time to count down to the New Year, and there aren't many more shopping days left if you're hosting a New Year's Eve party.
One of the biggest expenses you'll run into for your party are New Year's Eve drinks. Even if you aren't a big drinker, a New Year's Eve party just wouldn't be a New Year's Eve party without some tasty adult libations and a little bit of bubbly.
However, we don't want to start the New Year behind on our financial resolutions, now do we? The good news, though, is that you don't have to bust your budget on New Year's Eve drinks. Here are some tips to help you pick up some New Year's Eve drinks on budget.
Provide Non-Alcoholic DrinksWhen panning your New Year's Eve drinks, don't forget the non-alcoholic drinks! Not only are non-alcoholic drinks much less expensive, but they can also give guests something else to sip besides alcohol. This is especially important if you'll have designated drivers at your party.
Have a BYOB New Year's Eve Party

If you're really strapped for cash, you can provide the mixers, snacks, and entertainment. When inviting guests, make it clear that while it's not required, they can bring alcoholic beverages of their choice.

Stick to Beer and Wine

A case of beer, keg, or a box of wine can go pretty far, even at a New Year's Eve party. If you want to get all fancy schmancy, you can also buy a bottle or two of wine and simply refill it from the box throughout the night.

Make a Signature Cocktail

Signature cocktails are great for New Year's Eve drinks. They help simplify the night and help you save money. By serving a signature cocktail on New Year's Eve, you only have to worry about purchasing one or two bottles of the same liquor, which will help cut costs drastically. Be sure to mention your signature cocktail to your guests, and they can bring their own drinks if they want something different.

Break Out the Punch Bowl

You can make a pretty smashing punch with just a little cash! Mix a bottle of rum or vodka with juice, fruit, and ginger ale for a super simple punch, or check out some of the thousands of party punch recipes online.

Get the Party Started Later

Instead of serving dinner and drinks for your New Year's Eve party, consider starting the festivities later at night. You won't have to serve as much so you won't have to buy as much.

Keep it Moving

Board games, charades, or anything else that keeps your guests active is a must when you're hosting a New Year's Eve party. Guests who have something to do are less likely to just sit and drink, and anything to keep guests moving or interacting with each other is a plus.

Serve Snacks

Party guests will generally drink less when they have something to snack on. Serve carbohydrate and protein rich snacks, and you'll be pouring less. Serving snacks also has the added benefit of slowing down alcohol absorption, which means you"ll have less inebriated guests.

Promote Responsible Drinking

This tip is geared more toward safety and responsibility than frugality. New Year's Eve drinks aren't meant to get guests completely inebriated before the ball even drops. If you're serving mixed drinks, learn what a standard shot is and use it. Don't overpour, and don't be afraid to shut off anyone who's had enough. At the end of the night, the last thing you want is intoxicated guests leaving your home and driving. Not only is this extremely dangerous and irresponsible, but it can also lead to legal repercussions for you. In some states, hosts can actually charged if their guests drink, drive, and get into an accident. This can lead to fines, jail time, and even a lifetime of guilt and regret for you, the host.
What New Year's Eve drinks will you be serving this year?
More Frugal Living Resources: