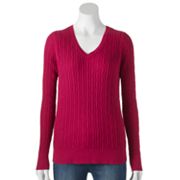 Brrr! The weather's getting chilly lately. Here's a pretty nice deal I ran across at Kohl's when shopping for some comfy cozy sweaters.
Right now, select sweaters are 50% off or more. You can also get an additional $10 off a women's sweater purchase of $40 or more when you use the code COZYUP at checkout. When you combine these two offers, the potential for savings is amazing!
Check out the discounted sweaters! You can narrow your search by filtering sweaters based on neckline, sleeve length, size, color, brand, and price on the left side of the screen.
Resources You Might Like: