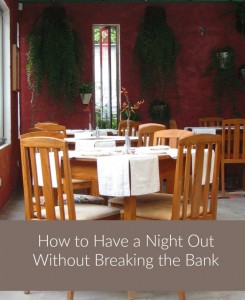 Are you on a budget?  Do you feel like you are missing out on the fun stuff while you are trying to save? Even those of us on a budget deserve a night out every once in awhile.  So how can you stretch your budget to include the entertainment of a night out on the town?
Well, lucky for us there are actually quite a few ways that we can save big on going out.  Check out these tips on how to have a night out without breaking the bank:
Drink at Home.  Alcoholic drinks are incredibly expensive (from $5 – $10+ each) and can quickly suck up your entire budget.  If your night includes plans to drink, consider having a couple of drinks at home before you go to the restaurant or club, this will cut down on your expenses quite a bit.  (Make sure you have a designated driver before you start drinking though!)  
Check out Happy Hour.  Many restaurants offer happy hour deals on food and drinks!  If you are going to drink, this is definitely the way to do it.  Food too is much cheaper this way.  Many chain restaurants offer their happy hour meals from like 2 – 4pm and then after 9.  Be sure to double check with your restaurant to see if and when they offer it.
Skip the Appetizers and Desserts.  If you are going out to dinner, don't splurge on appetizers or desserts.  They add unnecessary expense to your meal out and i don't know about you, but if I eat an appetizers, a meal and dessert I am way too full to have enjoyed myself.
Sign up for restaurant newsletters.  If you know you are going to be going out to dinner, it is worth researching the restaurant online to see if they have an online newsletter. These often come with sign up bonuses like free or BOGO free meals or appetizers or dollar off coupons.  Well worth the added emails!
Go on kids eat free nights.  If you are planning to take your kids with you, be sure and check into whether or not the restaurant has a kids eat free night.  Many big name restaurants such as Applebees, IHOP and more offer free meals for kids (some also offer $0.99 kids meals).
Groupon.  Don't forget to check out Groupon and other daily deals sites to find discounts on local restaurants.  Also be sure to check out our site often to score even deeper discounts with coupon codes.  Groupon deals are my favorite way to check out local restaurants and attractions.