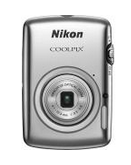 If you're in the market for a new camera, you might want to head over to Best Buy. Several cameras are coming bundled with free 8×8 photo book from Shutterfly, including this Nikon CoolPix SO1.
The Nikon CoolPix SO1 is a 10.1 megapixel camera with 3x optical zoom and 4x digital zoom. It has a 2.5″ touchscreen on the back and in-camera image editing options. An additional memory card shouldn't be a requirement either, since this camera has 7.3 GB of internal storage.
This camera was originally $179.99, but it's on clearance right now for just $59.99, more than $100 off! You can also get fre shipping or pick up your order at your local store.