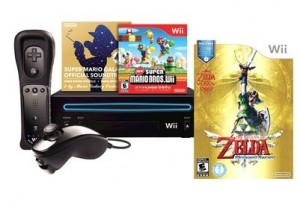 Here is a good deal on a wii console at Target.  You can get this Nintendo Wii Console (Black) with Zelda Skyward Sword Bundle for $149. This works out to paying $99 for the wii system and about $50 for the Zelda and Mario Game.  The bundle includes: Black Wii Console, Black Wii Remote™ Plus, Black Nunchuk, New Super Mario Bros. – Wii game pack, Super Mario Galaxy Official Soundtrack and Legend of Zelda: Skyward Sword with Music CD.
Just for perspective the wii alone will be $99.96 at Walmart on Black Friday.  The Zelda Game alone will be $59.96.  So for less you can get the console plus two games from Target right now.
I must admit that the only thing that "hurts" about this deal is the shipping cost of $7 :-(.  So I looked if there was a chance that Amazon may offer a similar deal, but it looks like Amazon doesn't carry this bundle.  Our wii stopped working two months ago so a wii and the Zelda game were on my list.  I first registered my MasterCard to get a $20 Master Card Gift card when I spend $200 online.  With this offer I am almost there.
If you use your Target Red Card you get an additional 5% off and free shipping.