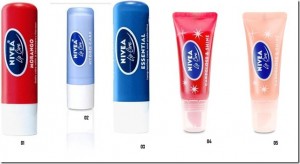 If you are looking for a place to use the $1/1 and $2/2 Nivea Lip Care coupons I shared with you yesterday, here are a couple of options:
At Walgreens: Be in the lookout for clearance on Nivea Lip care products for $1.59 each.  Buy two and use the buy one get one free coupon from May All You coupon and $1/1 printable coupon to pay 59 cents for two of them.
At Walmart you can find some Nivea Lip care products for $1.50.  Use the Nivea Lipcare coupons to pay 50 cents for one.
I have one of the tinted ones and I really like them because it gives a little splash of make up when you need it.
Thanks Wild for Wags and Money Saving Mom!