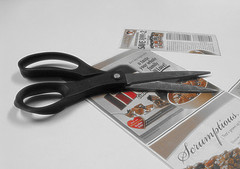 Due to Memorial Day weekend there won't be any coupons in your newspaper inserts today. But, since we all need a nice coupon fix I want to share some great printable coupons I have found. First Coupons.com has added a few new great coupons:
$1.50/2 Country Time Canisters (these have been on sale lately and likely will continue to be, due to the Summer)
$0.50 off 10 Kool Aid packets (if your store doubles this would make them near free, my grocery store had single packets on sale for 9 cents)
$0.75/1 Wishbone's Dressing (small bottles go often on sale for $1 each)
$1.50/1 Seattle's Best Coffee (12 oz)
$1.50/1 Starbucks Coffee (120z)
$1.50/1 Tazo Tea (bags or concentrate, I love their chai concentrate)
$1 off any Dial Bodywash (makes sample size free at Walgreens)
$1 off Hebrew National Franks and another $1/1 here
$3 off any Coppertone Products (I love their spray on products for the kids, easy to put on)
That's a pretty good selection of printable coupons that should help you make it until next Sunday.  This is also a great time to get caught up with your coupon clipping.
Have a great Sunday!