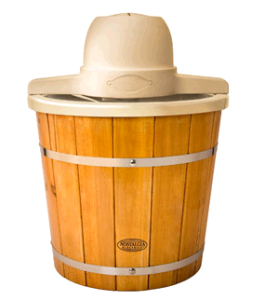 Ooooh! I want one!
This Nostagia Electrics wooden bucket electric ice cream maker is only $19 right now at Walmart! (Reg $49!) The same model sells for $47.84 right now on Amazon!
You can save some money on ice cream this summer by using simple ingredients to make your own tasty ice cream at home. You can make up to 4 quarts of ice cream or frozen yogurt with this baby. Just fill the bucket with ice and let the electric motor work its magic and churn the ice cream for you. Sure beats the old "plastic bag inside another plastic bag" method.
If you want this, though, you only have until tonight. This is the Value of the Day, so it won't be available after today!