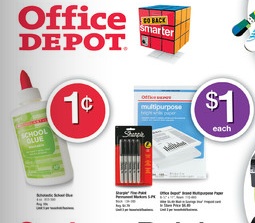 Here are the back to school deals at Office Depot for the week of August 7 through August 13.
Penny Item
Scholastic School Glue. Limit 5 per household.
$0.50 Items
Paper Mate Pink Pearl Erasure, 3 pack
Wilson Jones 1 inch Flexible Poly Binders
All Foray Single Rollerbar and Porous Point Pens
Office Depot Brand Staple Remover
$0.99 Items
Fashion Notebooks, Pencil Pouches, Water Bottles, and more.
$1.00 Items
Office Depot Brand Multipurpose Paper (Regular Price $6.49). After $5.49 Mail In-Savings Visa Prepaid Card. Limit 2 per household.
Westcott 12 inch Twist-It Flexible Ruler
Office Depot Brand Fashion Composition Notebook
Office Depot Brand Hole Punch with Padded Handles
Paper Mate Profile Pens, 4 pack
Fashion Paper Clips, 60 pack
Office Depot Brand Mini Milk Crates
$3.00 Items
Really Useful Storage Boxes, 5 pack
Scotch Removable Double Sided Tape
3 Inch Post-It Durable Tabs, 20 pack
Sharpie Accent Retractable Highlighters, 5 pack
Spring Water, 20 pack
Fiskars Recycled Scissors
Office Depot Brand Color Coded Sheet Protectors, 25 pack
Office Depot Brand Mini Clipboard
$5.00 Items
Post-it 3″ x 3″ Super Sticky Notes, 5 pack
Energizer AA Batteries, 10 pack
Expo Washable Dry Erase Markers with Board
Kodak Glossy Photo Paper
Mead Meal Planning Notepad
Mesh Wire Wastebasket