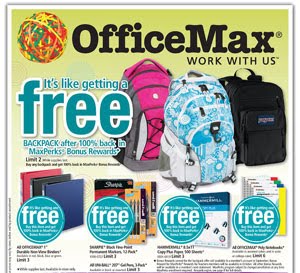 Here are the back to school deals available at Office Max beginning on 7/25 and through 7/31.
Free After Office Max Perks
All Backpacks (Limit 2)
Office Max 1″ Non-View Binders (Limit 3)
Sharpie Markers (12pk) (Limit 3)
Uni-Ball Gel Pens (3pk) (Limit 3)
Hammermill Copy Paper (Ream) (Limit 3)
Office Max Poly Notebooks (Limit 6)
Office Max Perks are open to businesses (large or small) and teacher (and homeschoolers). The rewards post to your account by the 20th day of the following month after purchase. You can use in-store on online.
Other Deals Available to Anyone:
Schoolio Shatterproof Rulers – $.50
Just Basics Cap Erasers – $.50
Helix Protractor & Compass Set – $1
Pentel Wow! Retractable Balpoint Pens (5pk) – $2
Thanks Saving with Shellie!