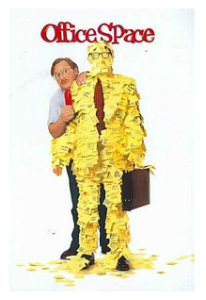 This has to be one of my favorite movies of all time! I've probably watched Office Space no less than 100 times, and I still laugh ever time. It's just so…weird!
Today only, Walmart is offering Office Space on DVD for just $3, and it qualifies for free store pickup! This movie is pretty popular, and for good reason. No matter how over the top the characters and situations are, people can still relate on some level.
Most of us have dealt with an overzealous co-worker and their "flare", or had a boss as grating as Bill Lumbergh. So, I'm gonna have to go ahead and order this from Walmart…mmm-kay? That's great. I'll watch it on Hawaiian shirt day – in my Hawaiian shirt and jeans.
FUN FACT: Did you know that Swingline never made a red stapler until well after this movie came out? The director of the movie contacted the company to see if they made a red stapler, because he wanted the stapler to be something flashy that Milton wouldn't want to part with. When Swingline told him they didn't make a red stapler, he got permission to paint some just for the movie. A few years later, the demand for red Swingline staplers was so high that the company decided to finally make one. And so the Swingline 747 Rio Red stapler was born…