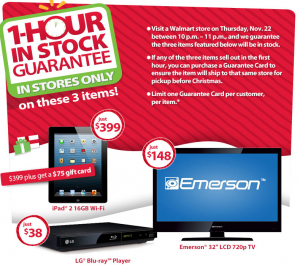 It's Officially here! Walmart "Guarantees" Customers its Best Black Friday Ever.  The Walmart Black Friday Ad is 45 Pages and is separated into 3 Events.  Here are the Events:
Walmart Black Friday Event #1 at 8 p.m. on November 22: Gifts for the Entire Family – Toys, Gaming, Home and Apparel
Walmart Black Friday Event #2 at 10 p.m. on November 22:  The BIG Event – Brand Name Electronics (this event will feature the 3 item 1 Hour Guarantee Stock)
Walmart Black Friday Event #3 at 5 a.m. on Nov. 23: Caffeine Not Needed – Great Savings on Gifts from Jewelry to Tires
One-Hour Guarantee:  Due to the large quantity of product already secured, Walmart guarantees that customers who are inside the store and in the queue line between 10 p.m. and 11 p.m. local time on November 22 can purchase the following electronics at special low prices:
Apple iPad®2 16GB with Wi-Fi – $399 plus get a $75 Walmart Gift Card
Emerson® 32" 720p LCD TV – $148
LG® Blu-ray™ Player – $38
If your item is out in that hour, then you can get a Guarantee Card to get it before Christmas for that price.  Be sure to check out A few of the top items available in store, while supplies last  here.