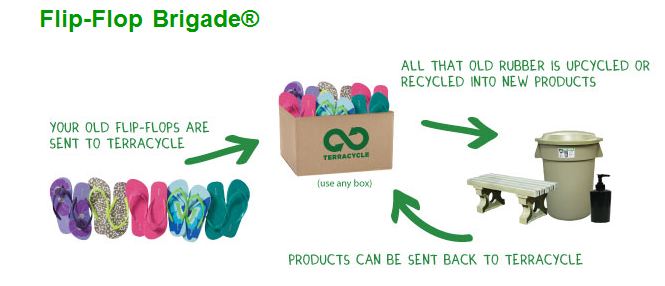 With the official first day of Fall just a few days away it's time to pack up those summer clothes and shoes, especially the flip flops!  Instead of just throwing them away in the trash consider the Old Navy endorsed Flip-Flop Brigade. 
Through TerraCycle's partnership with Old Navy, consumers can do the right thing for the environment and their wallets and recycle their old flip flops for free through the Flip Flop Brigade. For every 25 pairs collected, participants receive a coupon for free flip flops and a packet of coupons for $10 off an Old Navy purchase to share with those that helped in the collection efforts. These might come in handy for Back-to-School shopping! The program is open to anyone, free to join, and all shipping costs are paid. For more info, please visit https://www.terracycle.com/en-US/brigades/oldnavy.html.
Be sure to check out all the details here.
What an easy way to earn you a FREE pair of NEW Flip Flops as well as some HOT Old Navy coupons for getting rid of your old flip flops! 
Thanks Jessica's Coupons