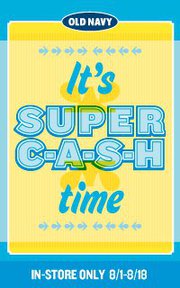 Old Navy is running a great in-store promotion from now through 8/18.  You can get $10 in Super CASH to spend on your next shopping trip when you spend $20 in eligible items.  Redemption of this Super Cash is between 8/25 and 8/29.  However, to redeem $10 in Super Cash you must have a $20 purchase at least.  It sounds like in effect it is $10 off when you spend $40, if you work out the math.
You can read more about this promotion here.
Thanks, 4 our 2 Cents!