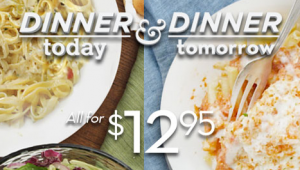 Olive Garden is trying something unique here!  They are offering Dinner Today and Dinner Tomorrow all for just $12.95 through November 18th.
Enjoy a delicious entree today served with unlimited homemade soup or garden fresh salad and breadsticks. Then choose another entree to take home for dinner tomorrow with our compliments!  This promotion gives busy families a convenient and affordable way to enjoy two meals during the week –maximizing quality time dining together and minimizing time spent preparing meals. Guests choose one of five favorite entrees for dinner today, served with unlimited soup or salad and breadsticks, and take a second entree home for dinner tomorrow – all for only $12.95.
Check out all the details here.