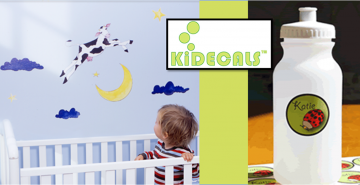 Jasmere's deal for today is a practical one. You can get a $40 Voucher for Kidecals for only $18.  But you know how Jasmere works? Well, the more people buy the deal the lower the price goes.  You don't get billed for it until the end, so you will pay the lowest price the deal gets.
If you have not taken advantage of this offer, Jasmere is offering a $5 credit when you fill out this quick survey. The survey should take about 5 minutes of your time and in return you get $5 credit on your purchase. You get the coupon code after you complete the survey so it's pretty quick. This survey will close on September 12th, and the coupon expires September 20th.
Here are other online deals going on right now:
Crocs has Santa Cruz Clog down to $14.99 from $44.99.  Use code HEALTHMAG and fallship brings the price to only $12.74 and get free shipping. All discounts don't show up until final review page.   Thanks Bucktown Bargains!

Soap.com is offering 50% off Method products today when you use the code METHOD50. Shipping is free on all orders over $25.  This offer is available today only.  Thanks Moms Need to Know!