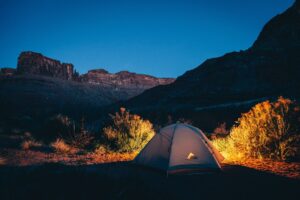 Am I the only one that is planning for warmer weather activities? I didn't think so! I am currently all about trying to plan out some camping trips for the upcoming summer (you have to book sites EARLY in my state). I have been camping for years and years, but we have several people joining us for some trips that are newbies.
Since they are new, I have been sharing some of our favorite tips and tricks with them and I figured I would come on here and do the same for you! Camping is such a great way to vacation on a budget and I love sharing my love of camping with others. 
Our Favorite Camping Tips and Tricks
These posts offer some of our favorite tips and tricks for setting up camp, starting fires, cooking at camp, you name it! 
Ultimate Camp Set Up Tips for Beginners
This list of the ultimate camp set up tips is a great introduction to camping for beginners! It doesn't leave anything out. 
What to Pack for Your First RV Trip
Are you headed out camping in an RV? If so, check out this list of what to pack for your first RV trip!
Easiest Best DIY Fire Starter
Are you still a fire building newbie? Check out this tip on how to create the easiest best DIY Fire Starter! We've been doing a version of this for years and it works great!
Camping Gear List for Beginners
If you aren't quite sure what gear you will need to get started on your camping adventures, check out this great camping gear list for beginners. 
7 Essential Family Camping Tips to Avoid Disaster
Sometimes things go wrong on vacation. This can happen no matter what type of vacation you are taking, whether it's a cruise or an all inclusive or camping! These 7 essential family camping tips will help you to avoid disaster on your camping adventures.