PacSun is having an awesome winter sale going on! Right now, you can buy 1 item and get 2 FREE! You can mix and match items, and get a top, a skirt, and an accessory. Just look for the "Buy 1, Get 2 Free" note under select items, and add them to your cart in multiples of three. The lowest priced items will be adjusted to $0.00 in your cart.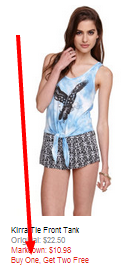 Shipping also only adds an extra $2.99!
This would be a great way to grab some new clothes for spring and summer!