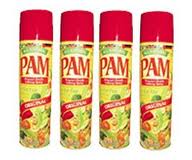 Pam Cooking Spray is offering a money back guarantee mail-in rebate on the purchase of one PAM Original, Olive Oil, or Butter variety of up to $4. Purchases must have been made or purchased October 1, 2011 through April 27, 2012. Limit one per household. You will have to send in a copy or original cash register receipt  with purchase price circled. Must be received by May 27, 2012.
Get the rebate form here.
Thanks, Printable Coupon Spot!