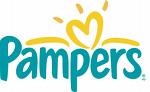 Pampers is giving away a free year supply of diapers to new Facebook Fans. Just become a fan and enter the FANtastic giveaway. It seems it's a winner per day but not sure how many days they will be doing this. I think it's for the next 25 days.
Also, in case you are not a member of Huggies Enjoy the Ride Rewards, when you become a member you are eligible to win a years worth of diapers. This is a daily giveaway through 4/12/10.
Looking for more sweepstakes to enter? (if you don't enter you can't win! so says my husband anyways) check out Sweeties Sweeps.