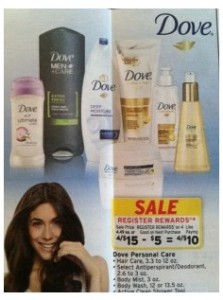 Walgreens has a great deal on Dove Hair Products this week. You can walk away only paying $0.26 each! This week only Walgreens has a Buy $15 Get $5 Register Reward deal on these products: Hair Care 3.3, 12 ounces, Select Deodorants 2.6 – 3 ounces, Body Mist 3 ounces, Body Wash 12 – 13.5 ounces, and Active Clean Shower Tool.
There are some important notes you need to know about this deal first. Because the items are priced at 4 for $15 they will ring up $4.49 for the first 3 and $1.53 for the fourth product. If you plan to use the BOGO Dove Treatment when you buy Dove Shampoo or Conditioner, you need to have that item scanned first. The Dove Hair Care treatment will ring up at $1.53, and you will not get the full discount if you don't do it this way.
Here is the scenario to get the deal:
Buy 2 Dove Treatments $4.49 each (scan first)
Buy 1 Dove Shampoo or Conditioner $4.49
Buy 1 Dove Shampoo or Conditioner $1.53
Use 2 BOGO Dove Treatment wyb Dove Shampoo or Conditioner coupon from the 7/31 RP
Pay only $6.02 after $5 RR, which is $0.26 each after coupons
Thanks, Living Rich With Coupons!