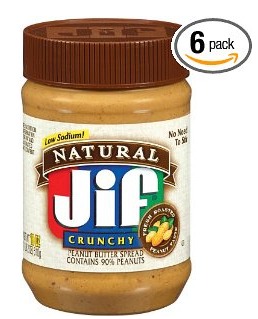 Well, would you look at that?  Two days ago there was an article on the Wall Street Journal about the prices of Peanut Butter and how they are going up as much as 30% at the end of the month.  But the internet didn't catch up to it until today.  So, now that you know too you can get the following deals to stock up before prices go up:
Skippy Peanut Butter, Creamy, 16.3-Ounce Jars (Pack of 6)
$11.75 when you order using susbcribe and save
Jif Natural Crunchy Peanut Butter Spread, 18-Ounce (Pack of 6)
$14 when you order using subscribe and save.
For an in store deal check out this one at Target:

Planters Peanut Butter $1.99 (regular price)
Use $0.75/1 Planters Peanut Butter Target printable coupon
Pay $1.25 each after coupon
If you see any other deals at stores near you, you may want to stock up.