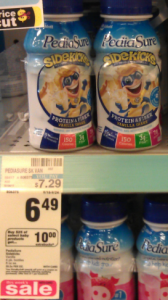 There is an awesome deal on Pediasure Sidekicks at CVS this week.  I like having these around for my kids.  You never know when they might get sick and need a meal supplement.  Here is your transaction:
Baby Select Products, Spend $25, Earn 10 ECBs Limit 1
Buy four Pediasure Sidekicks $6.49 each
Use four $3/1 Pediasure Products 6/19/2011 SS Insert (exp 9/30/2011) or from 7?24 SS insert or $3/1 Pediasure Product printable coupons or $3/1 Pediasure printable coupons
Pay $13.96 and get back $10 ECB
Now, note that this is the same deal as the Huggies deal.  So if you did the diaper deal you won't be able to do this one.  Catch up with more CVS deals here.
Thanks Wild for CVS!