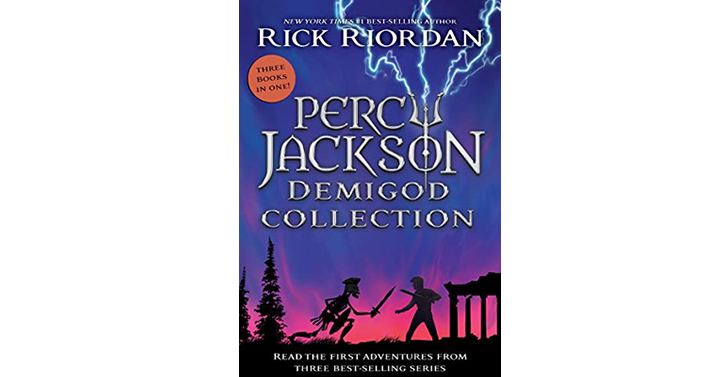 Want to kick up your feet and read tonight? Or maybe get something for the kids to read? Take a look at this awesome collection. A book of firsts! One epic collection containing the first book from three different New York Times #1 best-selling series by Rick Riordan. Grab it today and get reading right away!
Get on over to Amazon and get the Percy Jackson Demigod Collection on Kindle – Just $.99!
"THE LIGHTNING THIEF: Zeus's master lightning bolt has been stolen and Percy Jackson is the prime suspect. He and his friends have ten days to find and return it and bring peace to a warring Mount Olympus. To succeed, Percy has come to terms with the father who abandoned him, solve the riddle of the Oracle that warns of betrayal by a friend, and unravel a treachery more powerful than the gods themselves. THE LOST HERO: Jason, Piper, and Leo find themselves at Camp Half-Blood where people won't stop talking about a curse and a camper named Percy who's gone AWOL.These three friends must rely on one another and their newfound demigod gifts as they embark on an epic quest to save Mount Olympus. THE HIDDEN ORACLE: Apollo, once the glorious god of the sun, music, and poetry, has been cast down to Earth in punishment by Zeus. Now, as awkward mortal teenager Lester Papadopoulos, he's been tasked with restoring five Oracles that have gone dark in order to regain his place on Mount Olympus. How is he supposed to accomplish that without any godly powers?"
Grab this awesome new book today! You don't need a Kindle device to read this book – simply download the Kindle app to your device and read and listen anywhere on any device!